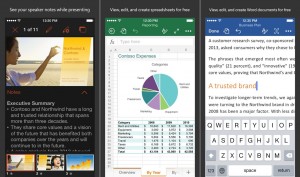 Microsoft Word, Excel si Powerpoint sunt aplicatiile din suita Office lansate de catre compania Microsoft in App Store, ele fiind actualizate in cursul acestei zile cu o serie de noutati despre care vom vorbi mai jos.
In cazul tuturor celor trei aplicatii Microsoft a implementat aceleasi modificari si vorbim despre : suport pentru limbile araba, thailandeza si evreiasca, posibilitatea de a vizualiza documentele protejate, optiunea de a invita persoane sa editeze documente si in final posibilitatea de a partaja documente ca si atasamente cu Microsoft Outlook.
Bi-directional and complex script languages: now supports bi-directional text editing and complex script for Arabic, Hebrew, and Thai.
View protected documents: open and view documents that have access permissions applied to them. 
Easier sharing: invite people to edit a document and grant them permissions, all from within the app.
Integration with Outlook: send a document as an attachment in Outlook. Or directly edit a document attached to or linked from an Outlook email message.
Aplicatiile Word, Excel si Powerpoint sunt disponibile pentru descarcare gratuita, in format universal, din App Store.