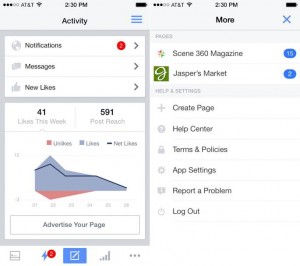 Facebook Pages Manager este aplicatia dezvoltată de către compania Facebook pentru a le permite administratorilor de pagini să-și administreze paginile direct din propriile iPhone, iPad sau iPod Touch-uri oriunde s-ar afla ei.
În cursul nopții trecute compania Facebook a actualizat aplicația Facebook Pages Manager pentru a rezolva unele probleme de funcționalitate ale versiunii anterioare și a îmbunătăți performanțele generale ale creatiei sale, totul în ideea de a oferi cea mai bună experiență de utilizare pentru posesorii de iDevice-uri.
Thanks for using Pages Manager! To make the app better for you, we bring updates to the App Store every 2 weeks. You can update the app automatically (without checking back here) by going to Settings › iTunes & App Store › Automatic Downloads and turning on Updates. Every update of our app includes improvements for speed and reliability. As other new features become available, we will highlight those for you in the app.
Facebook Pages Manager este disponibilă pentru DESCARCARE GRATUITA în format universal în App Store.