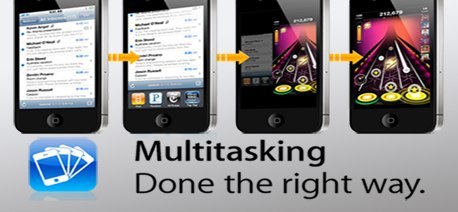 In cursul zilei de astazi Apple va lansa iOS 4.0 pentru toata lumea si developerii de aplicatii probabil se grabesc sa isi actualizeze aplicatiile pentru a beneficia de toate "bunatatile" din noul iOS, unul dintre feature-urile principale fiind multitasking-ul. Nu va asteptati ca multitasking-ul sa functioneze pe toate aplicatiile chiar din prima zi insa iata ce aplicatii compatibile cu multitasking exista in momentul acesta in AppStore :
Dropbox – disponibila gratuit
This app requires a Dropbox account. If you don't already have a Dropbox account, the app will allow you to create one for free. For more information on Dropbox and its services, visit Dropbox.com where you can also get online access to your file, download clients for Mac OS X, Windows, and Linux, or upgrade your storage to up to 100 GB.
Evernote – disponibila gratuit
Evernote turns the iPhone, iPod Touch and iPad into an extension of your brain, helping you remember anything and everything that happens in your life. From notes to ideas to snapshots to recordings, put it all into Evernote and watch as it instantly synchronizes from your iPhone to your Mac or Windows desktop.
This version of Evernote works best when used together with our free downloadable versions for Mac and Windows.
NYTimes – disponibila gratuit
Take the high-quality news and information of The New York Times with you on the go. Access the latest articles and photos of the day. Customize the toolbar with your favorite sections of NYTimes.com.
Read anywhere. After synching, articles and photos are available when offline.
ReelDirector – pret 2.99€
ReelDirector makes it simple for everyone to create movie right on iPhone and iPad. With a drag-and-drop timeline, multiple text watermark styles and 28 pro grade transitions, you'll turn your scattered video clips into polished movies in just minutes. Add text watermarks of title, opening credits and closing credits with 8 styles and 9 positions to choose from.
Ego – pret 1.59€
Ego gives you one central—and lovely—location to check web statistics that matter to you. With support for Ember, Feedburner, Google Analytics, Mint, Squarespace, Tumblr, Twitter and Vimeo, you can quickly view the number of visits to your website (including daily, hourly and monthly numbers), feed subscription totals and changes, how many people are following you on Twitter and more.
Tweetahoic – pret 2.99€
Tweetaholic is a beautiful and revolutionary new Twitter application. Tweetaholic isn't looking to re-invent the wheel, rather change how you use it. Tweetaholic was developed with one key aspect, to create an enjoyable user experience. If you're tired of the same bland user interfaces that EVERY other Twitter application utilizes, Tweetaholic is for you. With notable features ranging from carousel navigation, "Now Playing", and text/user black listing, there's no reason you shouldn't make it your go-to application.
Pullfolio – disponibila gratuit
Pullfolio.com is a unique tool for photographers to create professional portfolios sites using their images on Flickr. This is a companion application for your iPhone, iPad, and iPod Touch to showcase your portfolios anywhere you go. It allows photo syncing onto the device so you can present them to potential clients even when you're out of 3G/WiFi coverage.
iKamasutra – pret 2.39€
The reason iKamasutra is so much better than the competition is that it's classy, professional, and discreet without sacrificing any usefulness as a reference tool. The illustrations are well done and the directions clear and concise. If you're looking for a reference app to help you spice up your love life, and don't want something that comes across as amateur or vulgar, this is the one to get.
Pocket Universe – pret 2.39€
Winner of Mac World's 2009 App Awards (Education), Pocket Universe is the ideal astronomy app for those keen to learn about the night sky. The unique display is generated dynamically depending on your location and time, and then rendered in 3D for a super fast response – flick the sky and it spins around you. Pocket Universe is a brilliantly simply star map that's always up-to-date and accurate. If you want your kids to learn the constellations, or to impress a date with the names of the stars, this is the only app you need.
Convertbot – pret 1.59€
Convertbot is a unit conversion robot. Convert currency, length, mass, time and much more in an exciting new way! Converting numbers will never again be a mundane task. In addition to its innovative interface, our robot is smart enough to convert to and from mixed units. Are you 5 foot 9 inches tall? Other converters require you to convert that to 5.75 ft in your head before being able to enter it. Convertbot allows mixed units like Foot + Inches, Pounds + Ounces, and more! Download the unit converter from the makers of the award-winning Weightbot today!
PasteBot – pret 2.39€
Pastebot is a powerful new clipboard manager that stores text and images copied from your iPhone/iPod Touch. Copy something you want to save, run Pastebot and it automatically gets imported for you to access later. Run a "Find & Replace" filter on a block of text or convert an image into Black & White. Maybe you just need to crop and rotate an image.
Zagat To Go – pret 7.39€
ZAGAT TO GO is a universal app for the iPhone, iPad, and iPod Touch. Optimized for all three devices, you'll get a year's access to fresh restaurant ratings and reviews from over 45 trusted guides; all for less than the price of 1 guide! One purchase gets you ZAGAT for your iPhone and iPad! Our exclusive offline mode (iPhone & iPod) lets you browse restaurants while traveling by plane, subway, or anywhere without reception! As a bonus nightlife, hotels and shops are included where available.
How to Cook Everyting – pret 3.99€
This first-of-its-kind app of Mark Bittman's bestselling cookbook includes 2,000 recipes and 400 how-to illustrations — plus specially designed features for the mobile user. For all of you who upgrade your existing iPhone or iPod Touch to iOS 4 (as well as those with a new iPhone 4), we've added some great new features to take advantage of new capabilities in the operating system:
Weightbot – pret 1.59€
Weightbot is a weight-tracking robot. Whether you are trying to lose (or gain) weight, tracking your progress has never been more fun. Set your goal, record your weight, view your BMI, and see your progress on a beautiful graph. Weightbot was designed for everyone to use.
Visit tapbots.com for demos and more information.
LinkedIN – disponibila gratuit
LinkedIn for iPhone puts your professional network just a touch away. Walk into any interview or client meeting with the ability to look up the details and connect with over 70 million professionals worldwide.
Get the latest updates and messages from your network and keep them up-to-date with your status in real-time.
ESPN Scorecenter – disponibila gratuit
ESPN ScoreCenter brings you scores from hundreds of sports leagues around the world.
Never miss another goal, pitch, basket, try, touchdown or wicket. Whether you follow the NFL or the Premier League, the Ashes or MLB, NASCAR or Formula One, ScoreCenter offers the most comprehensive sports coverage available on your iPhone or iPod touch..