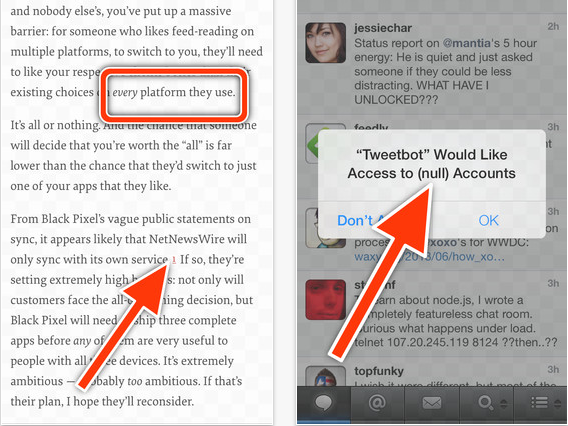 Bugshot este o aplicatie publicata in cursul acestui weekend in App Store, ea fiind dezvoltata de catre Marco Arment, creatorul celebrei aplicatii Instapaper. Bugshot este facut aspecial pentru cei care fac screenshot-uri cu propriile iDevice-uri in ideea de a raporta diverse buguri sau de a evidentia alte lucruri vazute pe ecranele propriilor terminale, aplicatia permitandu-ne sa editam rapid acele screenshot-uri. Dupa cum puteti vedea si in imagini, aplicatia ne permite sa introducem sageti, chenare, saua lte isntrumente de aducere in atentie a anumitor elemente ale imaginilor, functionalitatea fiind asemanatoare cu cea a aplicatiei Preview pentru OS X.
Quickly draw orange arrows and boxes on screenshots, then email or share them! Great for reporting bugs, web layout issues, article typos, and other visual issues to whoever's responsible (even if it's you). Take a screenshot of anything you see (press Home and Sleep/Wake at the same time on any iOS device), and it will appear in Bugshot for annotation and sharing. Your annotated screenshots can be saved back to your Camera Roll, emailed, sent in Messages, copied, posted to Twitter or Facebook, and more. (Bugshot's icon is actually, itself, a rendering bug from an early version of the rectangle-drawing code. In a happy accident, two arcs went too far and formed a "B". I screenshotted it, naturally, and saved the "buggy" drawing code into its own class to render the icon at any size.)
  Bugshot este disponibila in App Store intr-o versiune universala.
Numele:
Bugshot
---
Developer: Full City, LLC
Universala
Categoria: Utilities
Descriere: Quickly draw orange arrows and boxes on screenshots, then email or share them! Great for reporting bugs, web layout issues, article typos, and other visual issues to whoever's responsible (even if it's you…
Dimensiunea aplicatiei este: 0.4 Mb
---