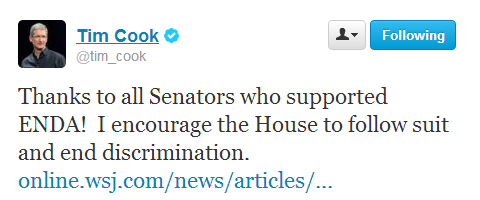 Saptamana aceasta v-am spus ca Tim Cook, actualul CEO Apple, a facut un gest neasteptat si a publicat in celebra publicatie Wall Street Journal un articol in care sustine o legislatie care interzice discriminarea la locul de munca. Extrem de multa lume a ramas surprinsa de pozitia luata de catre actualul CEO al companiei Apple, insa dovada sa de curaj probabil a convins unii senatori americani sa ia decizia de a vota favorabil in privinta acestei legislatii, ea fiind aprobata de catre Senatul american.
"The time has come for Congress to pass a federal law that ensures all citizens, regardless of where they live, can go to work not afraid of who they are," Senator Harry Reid, the majority leader, said on Thursday, noting that a vast majority of Americans already think such a law is in place. "Well, it isn't already the law," he added. "Let's do what the American people think already exists." Republicans who voted against the bill, known as the Employment Nondiscrimination Act, were muted in their opposition. The first senator to rise and speak against the bill on the floor all week was Dan Coats of Indiana, who said Thursday morning that religious freedoms were at risk, despite the bill's broad exemption for religious institutions. Those exemptions, he said, did not go far enough.
  In ciuda unei opozitii formate impotriva legislatiei, ea va merge pentru aprobare in Camera reprezentantilor, Tim Cook cerandu-le acestora sa ia exact aceeasi decizie precum colegii lor senatori. Daca ambele camere ale Congresului american isi vor da votul de incredere asupra legii, ea va fi trimisa mai apoi catre presedintele american Barack Obama care are optiunea de a o promulga, ea intrand in vigoare la o data stabilita de catre legislatia americana.