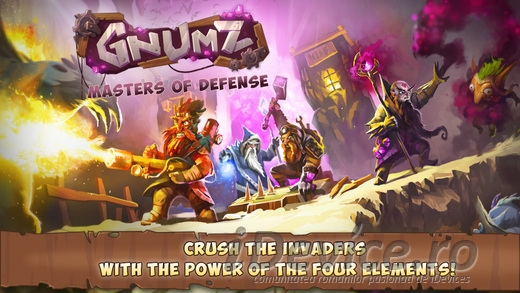 Gnumz: Masters of Defense HD TD este un nou joc lansat in cursul serii trecute in App Store si vorbim despre un nou tip de tower defense pentru iPhone, iPad si iPod Touch-urile noastre. Conform descrierii facute de catre dezvoltatori pentru acest titlu, vorbim despre un nou tip de mecanica speciala pentru gameplay-ul acestui tip de jocuri, asa ca el ar trebui sa fie extrem de interesant.
An unknown mineral has been found in the depths of the dwarfish caverns – more valuable than gold and harder than steel. But this find quickly turned sour… The Wicked King laid siege to the deep cities and ordered their inhabitants to give him their entire supply of the wonderful ore. Anyone who wishes to lay their hands on the dwarfs' treasures must overcome hundreds of clever traps and powerful curses standing in their way.
  Gnumz: Masters of Defense HD TD are disponibile nu mai putin de 20 de niveluri ale caror actiune se desfasoara in Iron Mountain, voi avand rolul de a distruge toti monstrii trimisi spre voi. La dispozitie veti avea, desigur, o multitudine de turnuri pe care le veti putea imbunatati de-a lungul timpului pentru a distruge mai eficient hoardele de inamici trimise catre voi, totul intr-un joc prezentat ca fiind extrem de interesant.
Gnumz: Masters of Defense is a strategy game inspired by classical fantasy. Its new system of interacting elements will reveal your tactical talents, and brute force has its place as well. Each level in the deep caverns requires an individual approach. New players and pro gamers alike will enjoy its carefully crafted balance.
  Gnumz: Masters of Defense HD TD este disponibil in format universal in App Store.
Nume:
Gnumz: Masters of Defense HD TD
---
Developer: 8FLOOR LTD
Universala
Categoria: Games
Descriere: This HD application is designed for Retina displays and newer devices!
An enemy army is at our gates!
Lead the defense!
An unknown mineral has been found in the depths of the dwarfish caverns more valuable than gold and harder than steel. But this find…
Dimensiunea aplicatiei este: 101.3 Mb
---