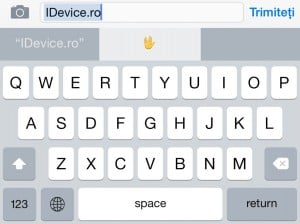 LockPredict este un tweak disponibil de doar cateva zeci de minute in Cydia pentru iPhone, iPad si iPod Touch-urile care ruleaza iOS 8, el oferindu-ne posibilitatea de a modifica functionalitatea sistemului de scriere predictiva. Mai exact, dupa instalarea tweak-ului, bara care afiseaza cuvintele in baza predictiilor nu va mai fi minimizata in timpul scrierii, ea aparand la dimensiunea sa normala pe toata perioada scrierii unui cuvant, sau a unui grup de cuvinte.
Compatible with iOS 8. This tweak is made regarding to the request on reddit. This tweak prevents the word guessing bar (predictive bar) from minimizing when available.
LockPredict este disponibil pentru descarcare gratuita in repo-ul BigBoss al Cydia.