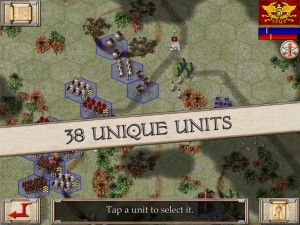 Ancient Battle: Hannibal este un joc de strategie pentru iDevice-uri lansat la sfarsitul anului trecut in App Store Romania, el avand in centru razboaiele punice din perioada cuceritorului Hannibal.
Gameplay-ul ne ofera posibilitatea de a retrai cateva dintre cele mai cunoscute batalii purtate de catre Hannibal in tentativa sa de a cuceri Roma, aceasta fiind o continuare a jocului Ancient Battle: Rome lansat cu destul timp in urma in App Store.
ANCIENT BATTLE: HANNIBAL IS THE NEWEST EDITION TO THE ANCIENT BATTLES SERIES. EXPERIENCE THE MAGNIFICENCE OF THE PUNIC WARS, AS YOU FOLLOW HANNIBAL ON HIS CRUCIAL CAMPAIGN AGAINST ROME. FIGHT THE BATTLES OF THE SECOND PUNIC WAR BETWEEN CARTHAGE AND ROME. EACH CAMPAIGN IS THEMED AROUND BATTLES BETWEEN HANNIBAL'S ARMIES AND THEIR CUNNING OPPONENTS IN THE FOUR GEOGRAPHICAL REGIONS OF ITALY, SPAIN, SICILY AND AFRICA.
Dezvoltatorii titlului sustin ca jocul are la baza un motor grafic evoluat, un tutorial cu 7 misiuni in care puteti invata cum sa jucati, plus o serie de 14 misiuni plasate in diverse zone de pe glob.
Mai mult decat atat, titlul ne pune la dispozitie 38 de unitati militare existente in perioada de timp in care a trait Hannibal, iar dupa fiecare batalie veti avea posibilitatea de a vizualiza statistici detaliate despre evolutia armatei voastre.
High Definition Ancient Era Graphics. 
7 Mission 'Tutorial' campaign ending with a unique skirmish battle.
4 Mission 'Sicily' campaign, featuring battles from the First Punic War, including the battle of Bagradas.
8 Mission 'Italy' campaign featuring the decisive battles of Lake Trasimene and Cannae.
The 'Africa' and 'Spain' campaigns are available via in-app purchase.
All missions, except the tutorial, can be played as both sides. 
38 Unique Ancient units including Roman Hastati, Spanish Scutarii, Bolt Throwers and Elephants.
Four classes of infantry: Raw, Average, Veteran and Elite.
Detailed Combat Analysis.
Flank Attacks
Strategic Movement.
Hours of Gameplay.
Ancient Battle: Hannibal este disponibil pentru DOWNLOAD in format universal, la pretul de 1.99 euro fata de 4.99 euro in mod normal, in App Store.