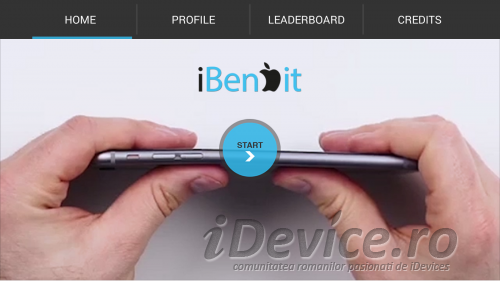 iBendIt este o noua aplicatie pentru terminalele Android si dupa cum am scris in titlu, ea este dezvoltata pentru a genera putin scandal intre posesorii de terminale iOS si Android, ea fiind conceputa pentru a indoi iPhone 6 si iPhone 6 Plus, virtual desigur. Aplicatia este conceputa sub forma unui concurs care masoara timpul necesar pentru a indoi iPhone 6 si iPhone 6 Plus, asa ca utilizatorii care indoaie iPhone 6 si iPhone 6 Plus cel mai repede vor fi plasati intr-un clasament online.
How fast can you bend the new competitor device? Be as fast as you can and become a Bendgate Hero!! Challenge the strength of the new iPhone and test your speed to climb the world's top players in the Bendgate! Can you be the fastest in the world?  Try it and DESTROY!!
  Jocul ia desigur in ras problemele de design pe care terminalele iPhone 6 si iPhone 6 Plus le au si desigur ca in perioada urmatoare ea va fi prezentata intr-o multitudine de medii online, asa ca va exista destula discutie pe marginea sa. Aplicatia iBendit este disponibila pentru DOWNLOAD GRATUIT in Google Play si desigur ca are doar scopul de a distra utilizatorii de terminale Android.