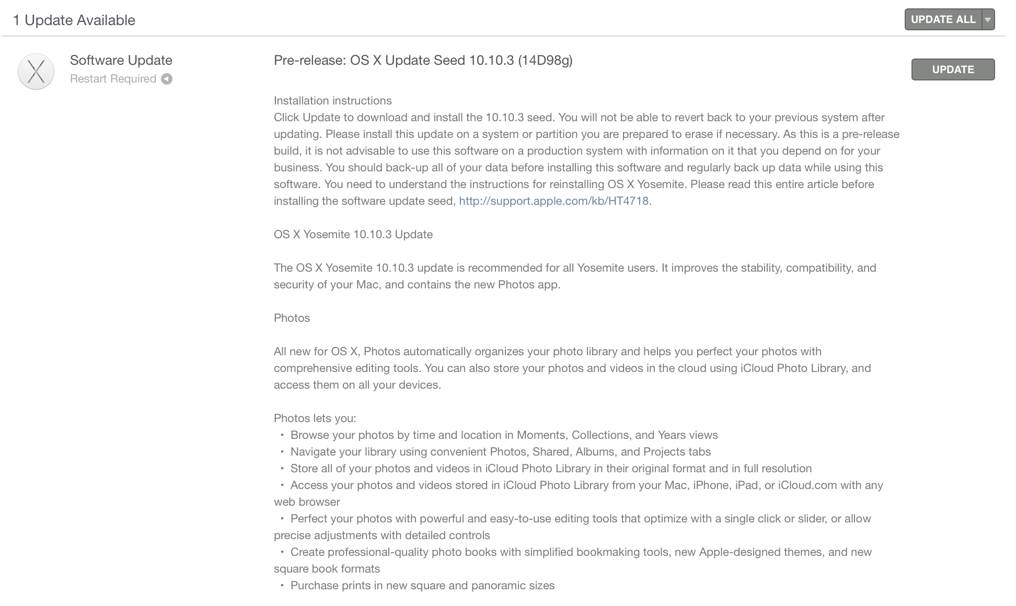 Impreuna cu iOS 8.3 beta 3 compania Apple a lansat in aceasta seara si OS X Yosemite 10.10.3 beta 3 cu build-ul build 14D98g, una dintre principalele noutati implementate fiind suportul API pentru sistemul Force Touch disponibil in MacBook Pro 13 inch 2015 si MacBook Retina 12 inch. Separat Apple a implementat suport pentru iCloud in aplicatia Photos, a imbunatatit sistemul de locare in Gmail, a implementat emoji noi si cam atat deocamdata.
  Daca aveti un build anterior al OS X Yosemite 10.10.3 si nu faceti parte din programul public beta de testare, atunci veti putea instala aceasta actualizare prin intermediul sistemului Software Update al OS X.
This beta of OS X 10.10.3 contains new developer APIs that work with the Force Touch trackpad in the new MacBook Pro (Retina, 13-inch, Early 2015) to allow a new level of interactivity and control within your apps.

Force click. Apps can have any button, control, or region on the screen respond to a press of stronger pressure. This Force click can provide a shortcut to additional functionality within the app.

Accelerators. Pressure sensitivity in the trackpad enables apps to give users greater control. For instance the fast-forward button in media playback can speed up as pressure increases.

Pressure sensitivity. Drawing and other creative apps can take advantage of the pressure-sensing capabilities of the trackpad to make lines thicker or give the brush a changing style.

Drag and Drop. Apps can add the springLoaded property to their controls so they can react to a Force click gesture while in the middle of performing a drag, for instance to immediately open a new target for the drop.