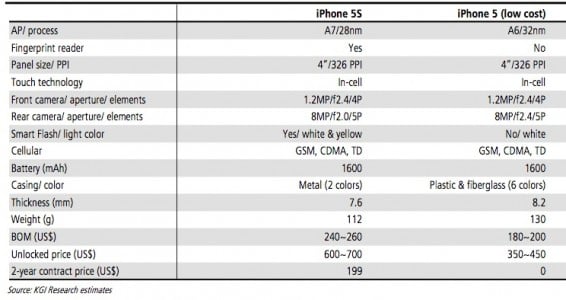 iPhone 5S pare sa fie denumirea pe care viitorul iPhone Apple o va avea, iar toate zvonurile publicate in ultimele saptamani indica faptul ca dispozitivul va fi lansat in vara. Un raport recent al unui analist american sustine ca iPhone 5S va avea un chip A7 produs folosind un proces de fabricatie de 28nm, un ecran de 4 inch cu aceeasi densitate de pixeli, aceeasi camera frontala, acelasi numar de megapixeli pentru camera principala, dar un nou senzor de imagine, un Smart Flash pentru camera care ar avea blitz-ul colorat in alb/galben, un cititor de amprente comaptibilitate cu reteaua TDD a China Mobile, o baterie mai buna(1600 mAh), o carcasa mai subtire, dar si mai putine grame.
We expect Apple will introduce its new iPhones and iOS7 in June, and start shipping the new iPhones (5S and low-cost model) in the FDD version in July. Both dates are earlier than last year's roadmap. We attribute this to: (1) an effort to avoid repeating the fatal mistake of last year of the delayed iPhone 5 launch, which gave competitors room to grab market share; and (2) the new iPhones this year are mainly designed on the basis of the current iPhone 5, which suggests development time could be reduced.
  iPhone 5S va fi secondat pe piata de un iPhone(5) ieftin, care ar urma sa aiba hardware-ul terminalului iPhone 5, insa o carcasa din plastic si fibra de sticla, el urmand a fi disponibil in 6 culori. Principalele diferente dintre cele doua dispozitive ar urma sa fie chip-ul, camera, Smart Flash-ul care ar urma sa imbunatateasca, capacitatea terminalului de a face poze noaptea, un cititor de amprente care ar urma sa fie amplasat sub butonul Home si ar permite deblocarea terminalelor folosind amprenta, iar la final ramane carasa din plastic si fibra de sticla care va fi disponibila in mai multe culori.
[W]e expect the product differentiation between iPhone 5S and iPhone 5 will be: (1) computing power, with iPhone 5S to run on the faster A7 application processor; (2) the camera, with iPhone 5S being equipped with Smart Flash, ensuring photo quality using white or yellow flash according to lighting conditions; (3) iPhone 5S will have a fingerprint chip under the Home button, improving security and usability; and (4) the low-cost iPhone 5 hybrid casing of fiberglass and plastic will make it lighter and slimmer than general plastic casing and easier to make in various colors. However, we still think it will be heavier than iPhone 5S, which will have an aluminum casing. Thus, even form factor will be an area of differentiation.
  Practic Apple intentioneaza sa implementeze cateva noutati importante in iPhone 5S, insa nici noul iPhone ieftin nu va fi lipsit de surprize, mai ales daca dispozitivul ar urma sa fie disponibil in 6 culori. Ca sa fiu sincer, ne putem astepta la cateva surprize placute din partea Apple in vara si la final reamintesc faptul ca iOS 7 va fi lansat impreuna cu aceste doua dispozitive, iar deocamdata nu stim absolut nimic din ceea ce va implementa Apple in el.