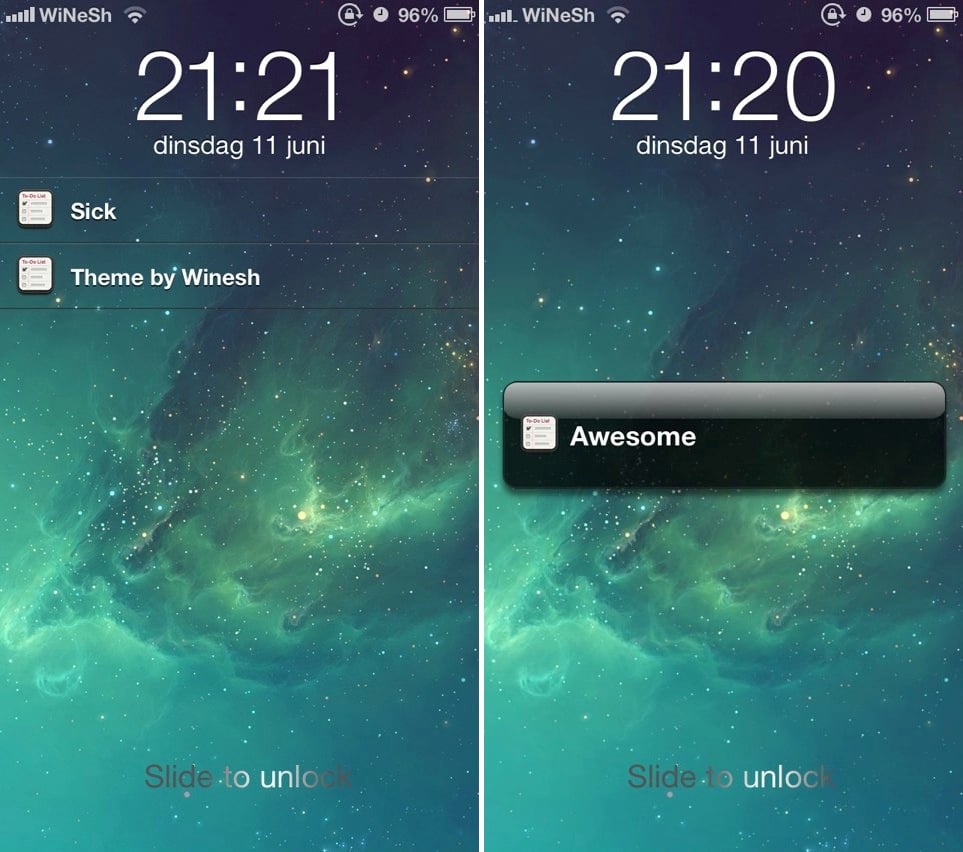 IOS 7 Lockscreen Theme este o tema lansata in cursul serii trecute in Cydia, iar dupa cum ii spune si numele, ea promite sa ne dea posibilitatea de a instala in iOS 6 un LockScreen asemanator cu cel al iOS 7. Daca facem o comparatie intre cele doua imagini, vom observa rapid ca diferente exista intre modul in care sunt afisate informatiile, insa ele nu sunt mari si tema reproduce aproape in totalitate ceea ce vad alti utilizatori in iOS 7. Camera Grabber-ul este acum invizibil, insa functioneaza, iar pentru a avea notificari transparente trebuie sa instalati tweak-ul NoLockNotificationsBG din Cydia.
This is the IOS7 lockscreen look-a-like for IOS 6 users like me. I made everything transparant leaving only the "Slide to unlock" visible like in the real IOS 7. The camera grabber is invisible but still works. You can just slide to unlock even thought the slider is invisible. The statusbar is invisible eveything looks much better in this form. So overall this theme is just for people who want the look of the IOS 7 lockscreen because you can't get your hands on the real thing. Just download and apply with Winterboard. And you should be ready to go. Also a tip install NoLockNotificationsBG that will make you incoming notifications transparant on the lockscreen. Just to make it that much nicer. So also thank Ron Melkhior for making that awesome theme.
  Per total, IOS 7 Lockscreen Theme este in momentul de fata singura modalitate de a reproduce in iOS 6 LockScreen-ul din iOS 7 si daca nu doriti sa instalati noua versiune a sistemului de operare, atunci tema ar trebui sa va fie de ajutor. IOS 7 Lockscreen Theme este disponibila gratuit in repo-ul BigBoss al Cydia, insa trebuie implementata cu ajutorul Winterboard.