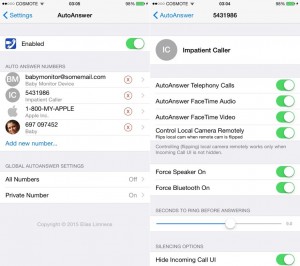 AutoAnswer8 (iOS 8) este un tweak lansat astazi in Cydia care ii permite unui iPhone, iPod Touch sau iPad sa raspunda automat apelurilor telefonice si FaceTime in baza preferintelor setate de catre noi. Conform dezvoltatorului, tweak-ul ne permite sa setam anumite numere de telefon sau email-uri pentru care iDevice-urile vor raspunde automat apelurilor telefonice sau FaceTime, pachetul oferind inclusiv optiunea de a comuta automat terminalele pe difuzor.
Set your phone to automatically answer to specific numbers and FaceTime calls. It can be used for unattended videoConference, baby monitoring, answering when driving and even have it switch automatically to speaker or bluetooth. AutoAnswer lets you choose numbers that you wish to auto-pickup and your phone will automatically answer the incoming call from those numbers, either instantly or after the amount of seconds you specify.
AutoAnswer8 (iOS 8) are disponibil un meniu de setari in aplicatia Configurari, Settings, a iOS, iar prin ea putem seta: numerele de telefon pentru care se raspunde automat, raspundere automata pentru numere private, tipurile de apeluri telefonice pentru care se raspunde automat, conectarea automata la un accesoriu Bluetooth dupa acceptarea apelului, controlarea camerei terminalelor de la distanta si multe altele.
Specify unlimited numbers
AutoAnswer private number
Specify call types per number (telephony,facetime audio or video)
Specify whether to turn on speaker upon answering a call
Specify whether to connect to bluetooth headset upon answering a call
Control device's camera remotely (on a FaceTime video call)
Hide/silence incoming call UI (for e.g. baby monitoring or receiving calls while in a business meeting)
All settings can be assigned either globally or per number
AutoAnswer can be used for: baby-watching over FaceTime, auto-answering specific numbers while driving, while using your phone with a bluetooth headset, instant response to specific calls, unattended video conference (leave an iPhone in some place and call it via FaceTime, keep a constant connection etc).
AutoAnswer8 (iOS 8) este un tweak foarte complex care ne ofera control total asupra apelurilor telefonice si FaceTime, el fiind disponibil pentru descarcare la pretul de 2 dolari din repo-ul BigBoss al Cydia.