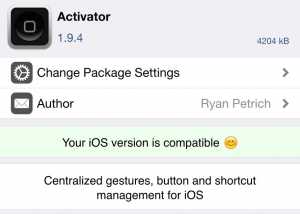 Activator 1.9.4 si 1.9.5 au fost lansate zilele acestea de catre Ryan Petrich, creatorul celebrului plugin pentru iPhone, iPad si iPod Touch-urile care au jailbreak, noile versiuni aducand compatibilitate cu iOS 8.4, cateva functii noi si rezolvarea unor probleme importante.
Activator 1.9.4 a adus compatibilitatea cu iOS 8.4 pentru noi, insa a adus si: optiunea de a impiedica accesul la API-urile Activator, rezolvarea functionalitatii bannerelor pentru Actions, optiunea de a afisa alerte pentru diverse actiuni, afisarea iconitelor in meniurile iOS 8.4 si nu doar atat.
1.9.5 (July 5, 2015)
Create new profiles as copies of the current profile
Fix crash when creating new profile
1.9.4 (July 4, 2015)
Support iOS 8.4
Protect access to Activator APIs with a prompt dialog
Fix Action Banners on iOS 8.2+
Add ability to display alert actions as a banner
Allow modifying menus right from the action section page
Show icons in menus on iOS 8.4
Add preview option to menu customization
Fix profile actions no longer working since 1.9.3
Versiunea 1.9.5 a Activator a rezolvat unele probleme de fucntionare si permite crearea de copii dupa profiluri setate de catre noi, astfel ca nu veti avea doar ceea ce ati setat in prealabil in plugin.
Separat de Activator si Flipswitch a fost actualizat pentru a fi compatibil cu iOS 8.4, ambele fiind disponibile pentru descarcare gratuita din Cydia.