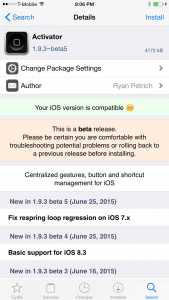 Dimineata va spuneam ca o versiune beta a Activator este disponibila intr-un repo al Cydia aducand suport primar pentru iOS 8.3, iar acum va spun ca versiunea oficiala a tweak-ului a fost lansata si permite utilizarea plugin-ului cu aceasta versiune a programului de operare si iOS 8.3 jailbreak.
Versiunea 1.9.3 a Activator a fost oficial lansata de catre dezvoltatorul Ryan Petrich si ea aduce o lista foarte lunga de schimbari, suportul pentru iOS 8.3 fiind doar una dintre noutatile de catre plugin incepand din aceasta seara.
Printre principalele noutati, separat de compatibilitatea cu iOS 8.3, regasim posibilitatea de a elimina codul de siguranta in anumite cazuri, rezolvarea unor probleme ce afectau iOS 8, rezolvarea unor probleme ale VPN si implementarea catorva functii noi.
Basic support for iOS 8.3
Add option to suppress passcode when activating an app at the lock screen
Better support Activator actions written using ARC
Fix unlock to dispatch event behaviour on iOS 8
Make camera shutter action take take photo after the camera app opens, if it needs to be opened
Add custom command actions
Fix VPN settings action on iOS 8
Make the fingerprint sensor hold put the Touch ID sensor into matching mode when assigned
Treat entering deep device sleep as leaving the Wi-Fi network (even if the WLAN interface hasn't left the building yet)
Update localizations
Add system-wide back button action
Support activating actions via URLs (activator://send/…)
Re-enable message events
Allow unassigning more things via swipe to delete gestures
Adjust Touch ID events on iOS 8 to use matching mode less often
Fix dictation action on iOS 8
Fix rare crash in file providers
Improve launch time of message composer actions
Fix custom Siri actions on iOS 8
Activator este disponibil gratuit in repo-ul BigBoss al Cydia.